Whether you're an athlete or a professional, few people ever have their focus on the finality of their career. But eight Miami Hurricanes will be honored this Saturday as part of Senior Day festivities recognizing their contributions to the Hurricanes baseball program.
Spencer Bodanza, Christian Del Castillo, Daniel Federman, Raymond Gil, Tony Jenkins, Gabe Rivera, Alex Toral and Ben Wanger make up the first senior class in head coach Gino DiMare's tenure leading the Hurricanes and they're a group he will never forget.
"It flies by so fast," DiMare said. "These guys come and they go. You turn your head and it's like, 'Oh my gosh! He was just a freshman here and now he's getting ready to go.' It's certainly a class that I appreciate. It's guys that I'm certainly happy that they came back."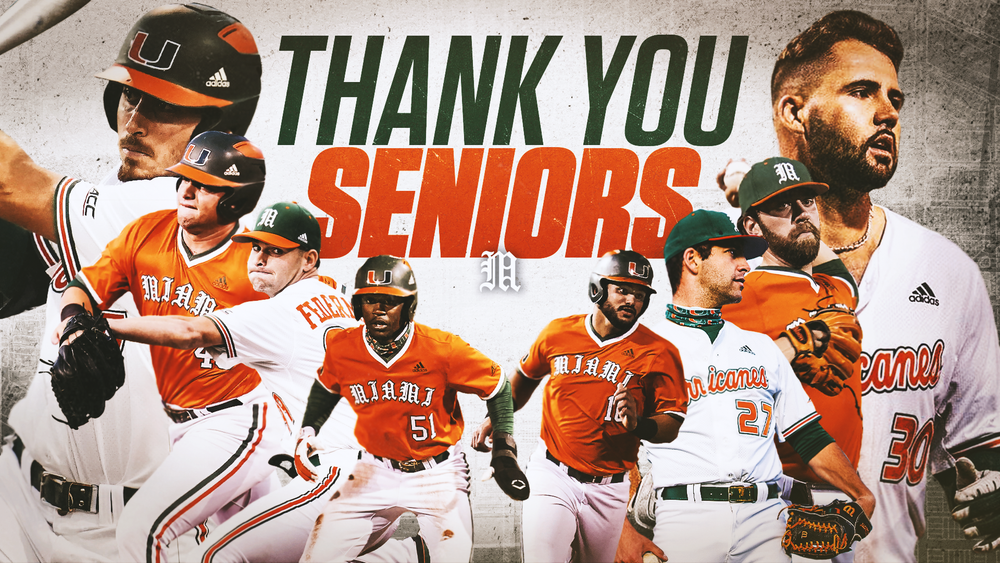 Much like DiMare will remember his players, the eight Canes have a bond with each other and their teammates that will last a lifetime.
"The bond we all share as Miami baseball players is special," first baseman Alex Toral said. "There are guys that played here six or seven years before I even arrived here and I've been fortunate to connect with and build relationships with. Whether you played here a long time ago or just a few years ago, we all have great love and pride for The U and we all connect because of that."
Federman, Gil, Jenkins, Rivera and Toral are four-year players that arrived at Miami together ahead of the 2018 season. The quintet has been through some highs and lows in their four seasons with the Canes and they hope to punctuate their fourth season on a high note.
"It means a lot to be part of that group," Rivera said. "We came from our freshman year dealing with that adversity and bounced back in 2019 and obviously last year with the whole COVID situation, we've been through a lot. We're a core group of guys and we've known each other even before we stepped on campus. Our relationships with each other have just gotten stronger and it's been a joy to play with each other here after growing up playing with each other to now finishing our college career here. It's been a blessing to play with those guys and they'll be my close friends for the rest of my life."
"It's definitely incredible being with some of these guys for four years and knowing some of them even before that," Jenkins added. "We're obviously going to go our separate ways after our careers end here, but I know we are all going to keep in touch. These are my brothers and I'll always stay close to them."
Read more here: Senior Sendoff